For a short time today the link to this book to be purchased will be down…..Thank you for your understanding.-   May 22nd, 6 :50 AM Brian Kelley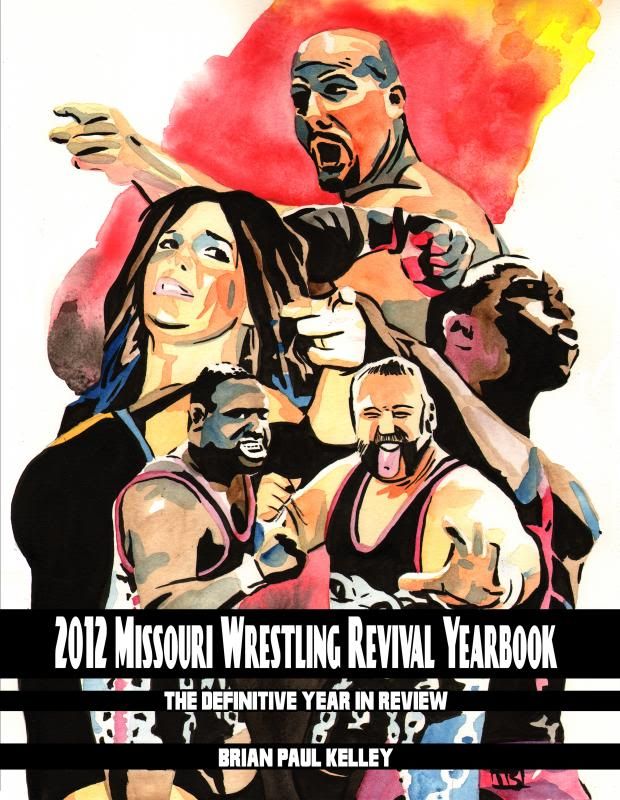 Wrestling fans the much anticipated 2012 MWR Yearbook has finally arrived!
Since 2008 MWR has supported pro wrestling in the Midwest with their website Missouri Wrestling Revival.com. Fans have been able to check out the site daily for updates on shows, recaps, interviews, promos and team-ups with many of the top minds in the sport today.
In 2012, MWR presented to the fans the 2011 MWR Yearbook that showcased the top news of 2011, complete results, articles and photos in a collection that promises to keep the hard work and efforts of the wrestlers and promoters alive for years to come.
MWR has been a site that the fans have supported throughout the Midwest and you can see firsthand that wrestling is alive and well heading forward in 2013 and beyond.
The brand new 2012 MWR Yearbook is offered today with cover art from the Artist of Champions Rob Schamberger you can purchase it  exclusively at the E-store for only $19.95 and for a short time you can get a 2 dollar discount on the book that features over 500 plus photos and 275 pages of memories and top moments of 2012 by using the discount 8UQVWT47 here.
What will you find in the MWR Yearbook you ask?
Let us take a look
Introduction by former Wrestling at the Chase Announcer Larry Matysik
January
Ace Hawkins named 2011 PWI Rookie of the Year
Stacey O'Brien presented with the 2011 MWR Female Wrestler of the Year at AAPW
Tyler Priegel captures New Midwest Wrestling gold to start 2012
NWA World Champ Adam Pearce and Jeremy Wyatt at 3XW an instant classic
AAPW's Main Event 1/14/2012 DVD Review
Rockstar" Jimmy Rockwell reviews Matt Murphy's book "The Somebody Obsession: A Nobody's Desperate Journey to Stardom"
Brandon Espinosa defeat Jackson for the MMWA MO/IL title By Ben Simon
Darin Corbin's W.R.E.S.T.L.I.N.G Reflections
"Babyface" Tony Cortez and Adam Pearce have a shootout at Magnum Pro Wrestling
February
The 2012 Sexiest female Wrestler of the Year is…MsChif
Sir Bradley Charles captures the PWP Championship
The Kentucky Buffet receives the 2011 MWR Tag Team of the Year plaques
Bob Geigel presented with the 2011 MWR Lifetime Achievement award
Harley Race presented with his MWR Lifetime Achievement award plaque with art from Rob Schamberger
Young wrestlers learn from the best at Magnum Pro Wrestling – Adam Pearce
St. Louis Anarchy debut show for MWR impresses with a star studded night of action
Adam Pearce signs an open contract to defend the NWA World title in St. Louis
March
The Belt Collector" Jeremy Wyatt captures 3XW Championship at "Final Countdown 2"
3XW fan Joe Mastin becomes "The New Belt Collector" in the Midwest
Jonathan Gresham supports MWR in the UK with Preston City Wrestling
Brandon Aarons wins the 2012 IHW Tournament
MWR Artist ICON meets the Ultimate Warrior and rising female star December
Missouri Wrestling Revival presents Brian Breaker with the 2011 MWR Future Star Award
Jeremy Wyatt -The first Metro Pro Double Champion By Mike Wilson
April
AAPW Collision returns to WSIL-TV 3 and supports Hands Across Harrisburg By Adam Testa
Jeremy Wyatt suffers injury. Mike Masters "attacks" fan at AAPW TV taping
NWA Dynamo supports the 2012 Steppin' Out For MS Night Walk in Downtown St. Louis
Kahagas defeats the NWA World Heavyweight Champion by DQ
Cauliflower Alley Reunion 2012 with Darla Staggs
Jordan McEntyre defeats Davey Richards to become the second EPIC 8 Champion
The Original Two is greater than one
Jeff Strong wins the second annual
Harley Race Invitational Tournament
Gunner Franks wins the 2012 Battle Royal Cup and becomes the first ever Magnum Pro Wrestling Champion
Marshall and Ross Von Erich capture their first victory
MWR advertisement at the 2012 Cauliflower Alley Club Reunion
The state of Missouri is proudly represented in
Las Vegas at the 2012 Cauliflower Alley Club
The Bumrush Brothers crowned the first ever NWA Dynamo Tag Team Champions
Jimmy Jacobs defeats Brandon Espinosa for the PWE Title.
Adam Pearce loses NWA World Heavyweight Championship to Colt Cabana
May
Gary Heatherly and 5-time WLW Ladies Champion Miss Natural turns up the hear at the 2012 Springfield Walk for Wishes
Two New Metro Pro Champions in the Same Night By Mike Wilson
Matty Starr captures the PWP Title but…..Ryan Slades steals Starr's thunder
Gary Jackson regains MMWA Title By Ben Simon
Jeremy Wyatt collects another title at
Champions of the Galaxy's I-CON 3 with Marcus Keen
Ricky Cruz dethrones Ron Powers
Ben Sailer wins 3XWOver the Top 3 By Mike Wilson
Tom Arson becomes the NMW Champion by not even being in the match -By Crimefighter
Metro Pro Wrestling presented with the 2011 MWR Promotion of the Year plaque
June
World League Wrestling salutes Brian Breaker prior to his call up to the WWE
A Match To Remember By Amanda Blasé
Barry Ryte teams up with Brendon Burke to
Challenge Ryback on SMACKDOWN
Mike Masters does the unthinkable, captures AAPW Championship Adam Testa
ACH wins NWA Central States Title – By Mike Wilson
Wrestling legend Earl Caddock is honored in Walnut, Iowa
Lumberjacks Abe and Gabe work with the MDA "Season of Hope" camp for the children in St. Louis
The Million Dollar man heats up the summer
Artist Rob Schamberger's now infamous painting of Michael Strider By Dee Clark
Strider vs. Pearce: One Last Time By Mike Wilson
WWE's Dolph Ziggler teams up with Harley Race's WLW to honor the memory of Ashley Rhine with
Make a Wish in Springfield, Missouri
Brian Gott wins The 2012 Phoenix Challenge
Gerald James and Dan Walsh is surrounded in a bloody mess in Alton, Illinois
July
Frank Gotch honored with a statue in his hometown By Rob Schamberger
"The Viking Warrior" Kraig Kessaman Captures Gold with "Good News Red Wine"
3XW Champion Benjamin Sailer Defends his Title against Davey Richards
Pearce captures his fifth NWA World Title in Kansas City at Metro Pro Wrestling By Mike Wilson
August
Midwest stars The Great Cheyenne and The Great Malaki Cherish Their Time with The Union League Boys and Girls Club in Pilsen, Illinois By The Great Cheyenne
ACH competes in the Finals of the CHIKARA's 2012 Young Lions Cup
Brian Breaker is now……Brandon Traven
Herb Simmons remembers the NWA and the great Dick the Bruiser
Travis Cook Suspended and Sent Away in Handcuffs
Brian Gott Defeats Ryan Slade to Capture the PWP Title
Ricky Kwong Becomes the 2012 King of Des Moines
Patrick Brandymeyer remembers Gateway Championship Wrestling
Wrestler Steven Kennedy's band I have a Bomb opens for Chris Jericho's band Fozzy By Kari Williams
Makaze Defeats KC Karrington for the NWA Missouri Championship
3XW celebrates their 100th show
Hardcore legend Mick Foley hits a funny bone in Iowa By Patrick Harden
September
Dave Osborne becomes King Osborne By Ben Simon
Brandon Schmitt referees his 800th match
MMWA-SICW's Hillsdale III continues to be a huge success
Kyle O' Reilly stands alone at the SLA Gold tournament
October
KC Karrington Captures Dynamo Pro Title from Makaze
The Magic Man joins MWR at NMW in Springfield, Illinois
Wyatt the survivor for Tag Teamageddon 2
AAPW's Zero Hour delivers for the American Cancer Society By Adam testa
Pro Wrestling writer Mike Bessler experiences All American Pro Wrestling live By Mike Bessler
Lucy Mendez takes a look back at 2012
Dixieland Destroyer Overcomes 26 other men to win the 2012 BRAWLTOBERFEST BATTLE ROYAL
Jeremy Wyatt and Mark Sterling Receive their 2011 MWR Match of the Year plaques
November
Ricky Cruz debuts at 3XW and becomes the number one contender for Jeremy Wyatt's title
Dan is the MAN at New Midwest Wrestling By Crimefighter
Kahagas stands atop the NWA
"Manager" Ron Powers creates havoc in East Carondelet.
Britton Tucker defeats Jason Jones to win the WLW Heavyweight Title
Attitude Inc's two year plus title reign comes to an end thanks to the PS Express – Scott Keyes & Perry Winkle
Reading…Anti-Bullying…and Ricky Cruz!
Pro Wrestling NOAH's Takeshi MORISHIMA and Harley Race deliver at the annual WLW/WWE/ Pro Wrestling NOAH camp
December
Jeremy Wyatt Reclaims Metro Pro Wrestling Title from Mark Sterling in Best of the 3 Matches
Two Years in the Making: Davey Vega Defeats Davey Richards
2013 New Midwest Wrestling Outlook By Crimefighter
The New St Louis Anarchy Champion Darin Corbin Reflects on his Time in the Land of Anarchy
ACH defeats Santa Claus aka Adam Pearce
Jason Jones regains the WLW Championship from Britton Tucker
New Magnum Pro Champion Jayden Draigo
Marc Godeker becomes the Show Me Wrestling Champion
Ron Powers Sends the "Canadian Hero" Sean Vincent out of Action Indefinitely
The Stacey' O Show
Larry Matysik remembers Rip Hawk
From the beast of Bruiser Brody comes the beauty of his wife Barbara Goodish
GCW 5 year reunion a huge success By Patrick Brandmeyer
2012 MECW Year in Review
Lord Steven Regal and Ace Steel take the Eldon fans to school with classic wrestling
Top 10 favorites Matches of Adam Pearce by Adam Pearce
Top 10 favorites Matches of Darin Corbin by Darin Corbin
Top 10 favorites Matches of Jeremy Wyatt by Jeremy Wyatt
Top 10 favorites Matches of Jonathan Gresham by Jonathan Gresham
Top 10 favorites Matches of Harker Dirge by Harker Dirge
Top 10 favorites Matches of Mike Sydal by Mike Sydal
Top 10 favorites Matches of Ricky Cruz by Ricky Cruz
Top 10 favorites Matches of Steve Fender by Steve Fender
Mike Wilson's Shooter Spotlight
2013 MWR Watch list
MWR Trading card set
10 Questions with Santana G
The Wrestling Press.com
Super fan James Casson Art
MWR Friends and Family
Midwest wrestlers dress for success
Wrestling from the 50's to Today for Me- Dee Clark
2012 MWR Wrestler of the Year- Adam Pearce
2012 MWR Female Wrestler of the Year- "Miss Natural" Heather Patera
2012 MWR TAG Team of the Year- The American Bulldogs
2012 MWR Future Star Award –ACH
2012 MWR Lifetime Achievement Award -Herb Simmons
2012 MWR Promotions complete results
And much more
Front and back cover art: Rob Schamberger.
MWR Contributors:
Author and editor: Brian Kelley.
Assistant Editors: Dubray Tallman, David Schmida, Emily Brady, Dee Clark, Kari Williams,
Claudia Bacon-Tonihka
Photographers: Adam Testa ,Amanda Blasé, Bill Smith, Gary Guaffoglione, Jeremy Hodge,
Michael Van Hoogstraat, Stephen Jones, Peyton Mitchell. Kelly Kyle, Jimmy Hunt, Kyle Valle,
Ashley Thomas, Kari Williams, Josh Ray, Stefanie Running
Columnist: Larry Matysik, Adam Testa, Ben Simon, Herb Simmons, Mike Bessler, Mike Wilson,
Patrick Brandmeyer, Pete Sakaris, Steven Lucas, Kari Williams, Patrick Harden,
Artist: Cheyenne Tallman, Dennis Wyatt , Rob Schamberger.
Look for information in the book on MWR FRIENDS
Snake productions.com
Rings and cages
Black Bear Haversack Trading post
Shotgun Wrestling Radio
RINGSYDERS radio
The Wrestling Press.com
Brady Hicks.com
Derek Sharp Designs
My 1-2-3 Cents.com  
Shooters Spotlights