Independent Hardcore Wrestling returns to Waterloo IL Saturday.
Posted by flairwhoooooo on September 6, 2010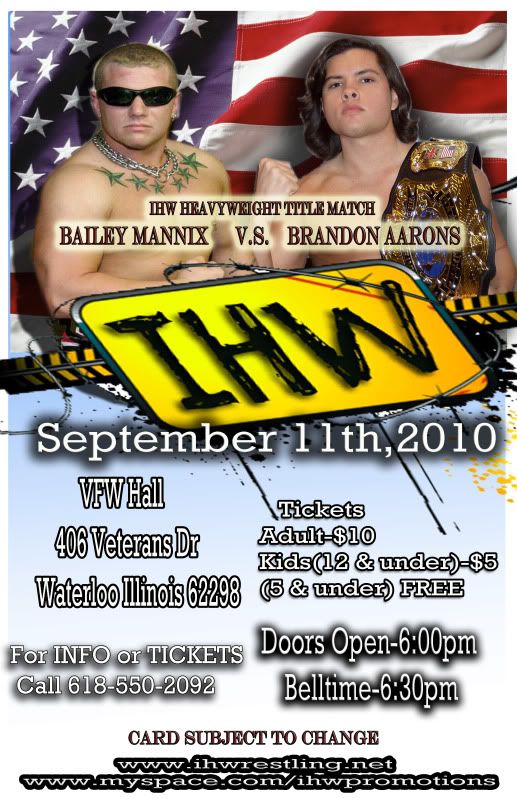 Independent Hardcore Wrestling Returns this Saturday in Waterloo Illinois with a main event starring two of the Midwest youngest talents today. IHW Champion Brandon Aarons will have to bring his A game to defeat Bailey Mannix when the two go head to head in the main event if he is to walk out with the title.
We caught up with the challenger Bailey Mannix and he had these words to say.

In a special grudge match it will be the "Future" Donovan Ruddick with MR Late Nite meeting fan favorite Mephisto. How will Mephisto slow down the 6'9 Monster while keeping his eyes on the mastermind Late Nite?
Plus it had just been announced that Evan Money will meet Canadian's Sean Vincent. Money looks to defend our country's honor against the 2010 IHW St Louis Wrestling Inventatinal tournament winner. There is no doubt that the fans will be on Moneys side but will it be enough to withstand the momentum that Vincent is riding during this summer?
Lets hear from the popular Evan Money.
Are you an inspiring wrestler looking to learn from one of the best? How about a wrestler that is wanting to up there game? Then you do not want to miss the special Tony Kozina seminar.