The Sexiest Female of 2012 is…………………..
Posted by flairwhoooooo on February 14, 2012
Here we stop on our way to WoodRiver Illinois to check out MECW, the home promotion of the 2010 Sexiest Male wrestler of the Year, Bailey Mannix. I highly urge you to go on a road trip this year to check out a new promotion as well as one in your hometown. Have fun and take lots of photos on the way there and while you are at the matches. Unlike WWE where you have to spend all day chasing the stars, there is a good chance that you will be able to meet them during intermission.
Hello Wrestling fans, what an exciting week here at Missouri Wrestling Revival. We have had more hits on the site this week than we ever have going into our fifth year since MWR began. One of the reasons for all the love is due to the poll regarding the talented and lovely women of the Midwest.
The Sexiest Female of the Year 2012 would have 1,303 votes that included 32 wonderful women that are involved in the sport in the Midwest.
First off, thank you to each and every fan that voted and the females that were involved.
To be perfectly honest this contest was not held to prove who was hottest in the Midwest, because each of these women are beautiful in their own right. No, there were two reasons why this was held, first off as with every post we have here is to bring fans to the site. The more fans that know about the site, the better chance that they will come back to MWR, as we hope they like the other content that is shown here on an almost daily basis. This will only help everyone involved, not only MWR. When they come to the site hopefully they check out the upcoming shows and support our local wrestling.
On the other hand the more hits on the site can only help the local stars as they make their path to make their dream come true, to be the best in the world. The ideal is that we hope that you the fans, see a wrestler like Maddog McDowell or Jack Gamble as an example in an article here and when they come to your local promotion that you already know that he/she is a professional and worth the price of a ticket. As a fan you will have those that you think lived up to the hype and then on the other hand you may be disappointed. Most if not all MWR promotions have tickets that are near the $10.00 price range so the risk of being let down is such that we know that you will get your money's worth. With the two before mentioned McDowell and Gamble we have no doubt you will not be disappointed but you may find another wrestler on the show that is your favorite.
The second reason is to support women wrestling in the Midwest in general. At the end of 2010, we had the MWR Awards committee gather together for the year in awards. When the topic of MWR Female Wrestler of the year came up many of the members stated that there were no women matches in their area, so they opted out, or like most they considered Harley Race's WLW Women's title in our coverage area to be the most prestigious title. With that said a young lady by the name of Amy Hennig dominated the promotion's title in her third WLW Title reign of 2010 and went on to be named rightfully the 2010 MWR Wrestler of the Year . MsChif, whom many like my boyfriend feel as is the best female wrestler in the sport today had not wrestled that often that year in the area.
Some of you fans may ask, what about SHIMMER??
We LOVE that promotion but it is outside the MWR promotion area and we feel as if we are not able to attend a show throughout the year, how can we give them the proper coverage they receive? With that said any news from a female wrestler in our coverage area like former SHIMMER Champion MsChif in SHIMMER will be given much love on our site. Just as if the former 5-TIME WLW Women's Champ Miss Natural returns to that promotion or if the 2-time MWR Female Wrestler of the year Stacey O'Brien would make her debut. If that should happen we would cover it and if invited would be happy to photograph the event.
So in no short words there are the reasons why we the Sexiest Female of the Year of 2012 were held, to hopefully have the fans request more matches for females. To be honest even before the contest had been started female wrestling popularity has picked up. WLW continues to be the only promotion with a Women's title that is frequently defended with top women wrestlers involved including O'Brien, Lucy Mendez, and Natural currently in the mix.
3XWrestling who we didn't mention earlier for bringing in women's matches continues to support women wrestling, so much in fact that this will mark the second month that they will have women's matches on their card with February 24th's matchup being between Malia Hosaka and Angelus Layne.
Metro Pro Wrestling has TV rating that spike when Lucy Mendez and MsChif are in the ring. IWA Unlimited currently has Angelus Layne and the red hot Serenity in the mix and in 2010 had stars like Athena and Rachel Summerlyn appear. MMWA-SICW has also featured women's wrestling in 2010 more often that they had in the past if I am right. IWA Productions just this weekend brought in ODB and Tracy Brooks for a card that boasted over 300 people and in the past have brought in stars like Nikki St John and Taylor Made.
AAPW fans requested women's matches for the first time in over four years at this historic AAPW Main event that saw O'Brien meet former foe Rebecca Raze in front of over 405 fans at the Black Davidson Harley Davidson arena. You can pre purchase the DVD of the event by clicking here.
NWA Dynamo has also brought in women wrestling and with Metro Pro Wrestling will feature the return of Santana G and the first appearance of TNA Star Christina Von Eerie on April 6th in Glen Carbon, Illinois and Kansas City on April 7th.
Underground Wrestling's first show brought in the one of a kind Amanda the Blood thirsty Vixen, the transsexual superstar from California who rocked the house at POP'S with former TNA Star Mickie Lee Knuckles in their exciting third encounter. Pro Wrestling Phoenix has also had women's matches in the past in Council Bluffs, Iowa. IHW has also been the place to catch the talented The Great Cheyenne, Melanie Cruise and Mia Martinez. Magnum Pro Wrestling started the 2012 off with a battle between Angelus Layne and Kiandra.
Heading into 2012, MWR is excited to have St Louis Anarchy in the family and they have a history of bringing in some of the top women around the country including Summerlyn, Jessica James, Portia Perez and Lillie Mae.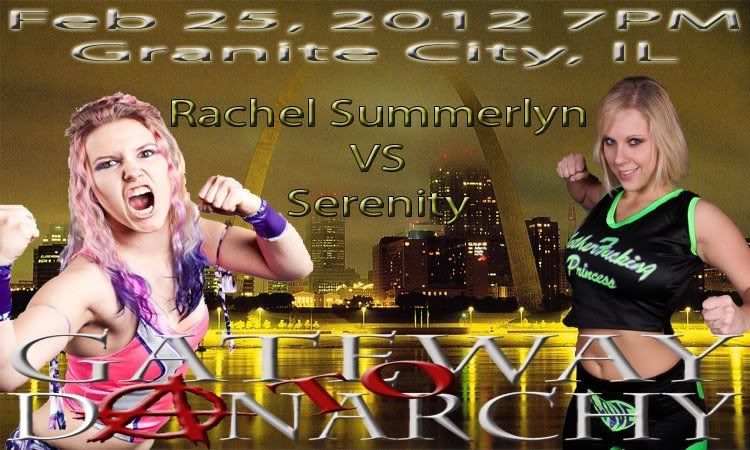 This coming month in Granite City on February 25th we hope you join us during a match that promises to be a true war when Serenity meets Rachel Summerlyn!!
So with all that information let's find out just who won the 2012 MWR Sexiest Wrestler of the Year and my thoughts on it.
Drumroll please….bum bum bum or however it goes……..You're 2012 Sexiest Female of the Year is….
MsChif, I had to laugh that one fan wrote during the contest somewhere that is she wins does that mean we have to call her Your Soul's Sexy tormenter??!! There is no doubt the love the fans have for her but no wrestler male or female demands the respect of MsChif. Not only is she such a professional that she has dedicated herself to be the best, she could teach a class on how to market herself. Her website is set up where fans can find out whom and where she is and more importantly she markets herself with the coolest of items for her fans to buy. Want a DVD of MsChif?, got it…T-Shirt? Which one? Does she have Coloring books?? Hell yeah, how about being in the MWR Trading Card set, check and done at Brian's favorite number 4, something about horsemen, I don't know. Don't believe me click here to purchase this or any other item.
Throughout the Midwest she has the loyalty of the fans, and we often have them ask us where she is going to be next, for the record we think that will be at NWA Dynamo on April 6th in Glen Carbon as a tag team partner of Makaze with the Magic Man or I am sure she will be part of SHIMMER in March but don't quote me on that check it out here.
So at 17.42 percent MsChif has captured another title to her resume, the 2012 MWR Sexiest Wrestler of the Midwest.
2nd Place- Lucy Mendez- Another personal friend of the site, I Love Lucy and that's a fact. She is a sweetheart who has been one of the most active female wrestlers during the MWR Years. The dye hard Latino Princess fans came through for her strong as she took over 2nd place in the final hour of this contest. Word has spread that promoter Chris Gough is very active in having Metro Pro Wrestling syndicated across the country, there may not be a women that is more universal than the Metro Pro Wrestling's bad girl herself, Lucy Mendez to lead them.
3RD Place Patty Bach- Everyone loves a cheerleader and though she doesn't wrestle like Chicago female star December she touches many fans hearts.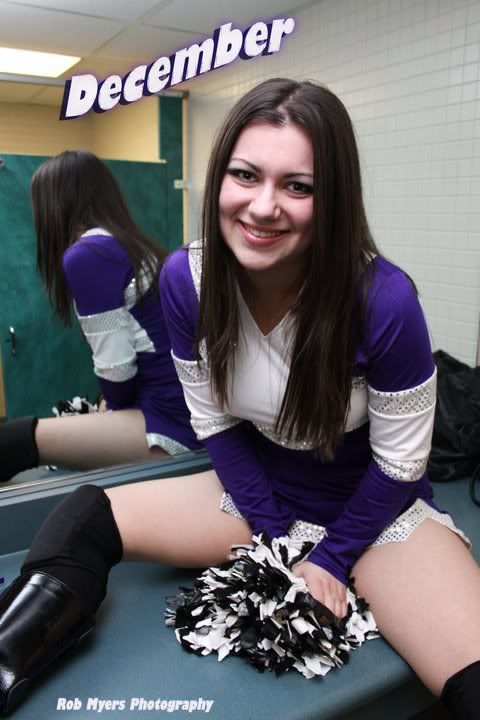 Why you ask is Patty involved if she doesn't wrestle? Though we put her on here because she is a personal friend of the site, we know how important she is to IWA Productions. Though, just the head cheerleader with a few of the young little women of Olney Illinois, this poll proved how good of a hype machine she is. More importantly for IWAP the cheerleaders and Patty bring a positive vibe to the shows for that promotion.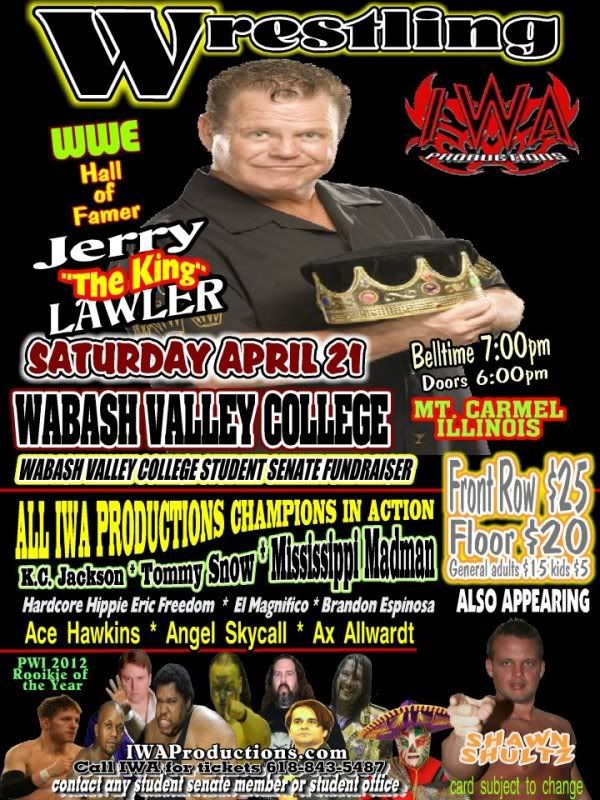 Though IWAP shows have been a huge success due to stars like Jerry Lawler who is coming soon but also because of the way Patty has worked with the community to keep fans local to the shows.
4th Place- Taylor Made- This is one woman whom personally I have not seen or met but if the support is any indication of how much fans want to see her, then I highly urged the promoters to contact her right away!! A double threat as she wrestles and manages as well at Metro Pro Wrestling leading Domino Rivera and ECW Original Angel.
5th place) Santana G- The Midwest Sweetheart is a personal friend as well, and almost family as her father is TNT Keny G. During the MWR years, TNT Keny has invited us in their home for some great times. Though I would like to give her this award to make her dad happy, alas any award worth having isn't given it is earned. She started off red hot and was right there at the top, but with her being gone since last spring, I have to wonder if that derailed her way among the top three. Still just like we saw in her appearances at WLW, I have no doubt when she is in town during the intermissions, the fans will be lined up to have their pictures taken with her. From what I have heard she has improved vastly since we last saw her as she has been working with former greats Larry Zbyszko and Scott Hall.
6th Place) Amanda the Blood Thirsty Vixen- A one of a kind, the fact that she has only been here once has her fans pleading for her return to the Midwest. That includes me as I missed her the last time she was here. Someone get her on your show!!!
7 and 8 tie)
Angelus Layne and
Miss Natural- Though I can't say I like her much after the way she treated me in the promo at 3XW. There is no doubting Miss Natural's talent, either that or she has been around so long that the older fans voted for her. Angelus Layne has challenged for the WLW title once before, and have been making waves from Iowa to Illinois.
9th place) Stacey O'Brien- Surprisingly not much love for the sexy Irish catholic schoolgirl. Or was it a case of people being haters and not wanting her to win the MWR Female of the Year and the MWR Sexiest wrestler of the Year back to back.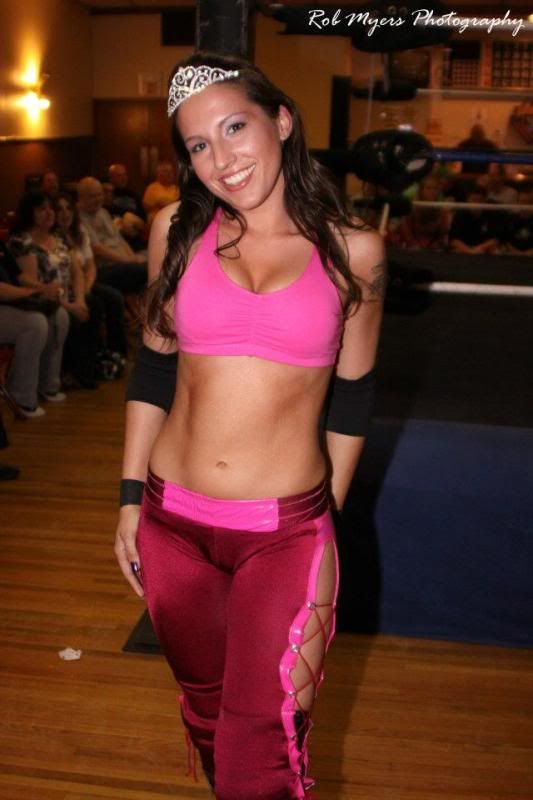 10th place) Nikki St John- Another wrestler that I have yet to meet and missed in action so far in our four plus years of covering the action. I got her photo thanks to the promoters from IWAP, as she has heated up the ring down in southern Illinois as well as Chicago's POWW promotion. MWR promoters it looks as if the fans are asking to see more of this young lady.
So there you have the top 10 women as voted by you the fans.
Thank you so much for the support of MWR and the ladies of the Midwest. Remember to add MWR to your favorites and visit daily to keep up with all your local wrestling news.
Hope to see you at the shows,
Love Dubz.