Archive for April 27th, 2012
Posted by flairwhoooooo on April 27, 2012
Posted in Uncategorized | Leave a Comment »
Posted by flairwhoooooo on April 27, 2012
Two big matches just announced for "Code Black" on FRIDAY May 11th. In addition to the blockbuster Frantic Four Corner showdown for the Heavyweight Title of Joey O'Riley vs. Jimmy Karryt vs. AT Brooks vs. Christian Rose, we now have the following to look forward to:
The team of Darin Corbin & Reed Bentley will take on The Kentucky Buffet in tag team action. Christian Rose's quest to #DestroyIWAU continues as he brings in his good friend, Bentley and a man who attempted to #DestroyIWAU last year, Corbin. Can this team make good on Rose's promise to kill this company?
Also, Blake Reed will finally get his hands on Scott Parker. On Wednesday Night Wrestling, Scott embarrassed the big man by cutting off some of his hair. Reed was livid and had to be escorted from the arena by several wrestlers. Tensions are high with this one.
Posted in Uncategorized | Leave a Comment »
Posted by flairwhoooooo on April 27, 2012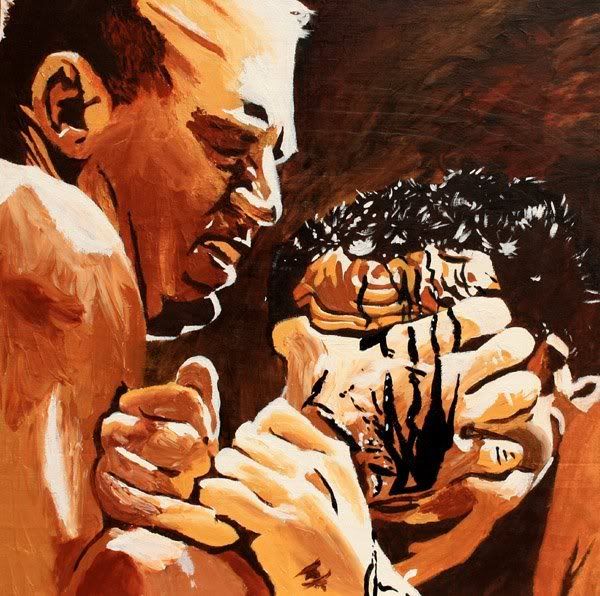 Acrylic on 24″x24″ wood
Fritz Von Erich is one of the most influential men in professional wrestling's history. Born Jack Adkisson, his larger-than-life wrestling persona as evil Nazi (like there was another kind of Nazi) Fritz Von Erich became the name he would be forever be known as. He was trained by the legendary Stu Hart, and went on to thrill fans across North America and in Japan. He won the AWA World Title in 1963, and then went on to be a mainstay in the Central States territory of the NWA. In the late 1960′s he became the head promoter for the Dallas territory and the adjoining Houston and San Antonio territories.
It's in Texas that he'll always be remembered as a legend. In the early 1980′s he formed the storied World Class Championship Wrestling promotion, known for its high production values, large syndication, and most notably: Exceptional wrestling. It's a who's who of greats that came out of WCCW, like The Fabulous Freebirds, Christopher Adams, Abdullah the Butcher, Bruiser Brody, and a young Stunning Steve Austin. WCCW is best known for the Von Erich family, though. Fritz's sons were among the most athletic and charismatic wrestlers in the world, some becoming World Champions themselves.
The Von Erich legacy continues today, with son Kevin Von Erich bringing his own sons Marshall and Ross to Harley Race's school here in Missouri to train. Fritz's granddaughter Lacey Von Erich is also involved in the wrestling world. It's awesome to see a name become so beloved that was originally for an evil Nazi. Only in pro wrestling, my friends.
To Support Rob in his quest to draw every world champion click here today!!
Posted in Uncategorized | Leave a Comment »