On April 27, Pro Wrestling Epic hosted the second annual EPIC 8 Tournament. Emanating from the American Legion hall in Mount Pulaski, IL, this year's tournament featured eight of the best wrestlers on the Midwestern independent radar. Davey Richards, Blake Steel, Brandon Aarons, Derek Cornell, Mephisto, Jordan McEntyre, Tony Kozina, & ACH, all battled it out in a tournament with a future PWE championship opportunity hanging in the balance. At the end of the night it was none other than Jordan McEntyre who would walk away as the winner of the 2012 installment of the EPIC 8.
McEntyre would not have an easy night as he competed in a total of three matches against the likes of Tony Kozina, Brandon Aarons, & Davey Richards, defeating them all to become the new king of central Illinois pro wrestling.
Following his pinfall victory over the Ring of Honor World Champion, McEntyre was allegedly heard backstage boasting "If Davey Richards is the best in the world, then what does that make Jordan McEntyre".McEntyre now has the opportunity to challenge any PWE champion of his choosing for a title match.
In addition to the EPIC 8 Tournament fans witnessed an exciting match between PWE United States Champion Ace Hawkins, and Ring of Honor star Kyle O'Reilly. Following the match, in a shocking turn of events Hawkins would viciously attack O'Reilly, hitting him from behind with the U.S. belt. Hawkins went on to berate O'Reilly in a rant seemingly focused on his close association to fellow ROH alum Davey Richards, whom trained Hawkins back in 2008.
The biggest surprise of the night came when PWE Champion, (and last year's EPIC 8 winner) Brandon Espinosa's interview time was interrupted by Jimmy Jacobs. Jacobs would immediately challenge "The Elitist" to defend his PWE title against him later in the night. Reluctantly the champion agreed to compete, and the match was made official by PWE President Ben Simon.
Those familiar with Pro Wrestling Epic know that Jacobs & Espinosa headlined the 2011 EPIC 8 Finals, providing a match that would later be chosen as the central Illinois Match of the Year by the Nose Bleed Seats.
Other notable moments throughout the night included…
-The flawless return of Brandon Aarons, who ousted Mephisto in the first round. Aarons, who returned to Pro Wrestling Epic for the first time in fourteen months, proved that he hasn't missed a beat, and still has the potential, and desire to be one of the biggest names on the PWE roster.
-During a special six man tag team match involving the Submission Squad, & Alexander Rudolph against Matty Montcalm, KC Jackson, & The Mississippi Madman, PWE Tag Team Champions The Hooligans (who are currently under a 90 day suspension) made their presence known in a big way as they spoiled the match for the latter mentioned team after delivering a chair shot to the Madman.
PWE returns to Mount Pulaski for "DAMNOCRACY" on Friday, July 6, 2012. Be sure to visit http://www.prowrestlingepic.com for the latest PWE news and event info.
Complete results from 4/27…
-Gary Jay defeated Zulu Mike in a pre-show match
-ACH pinned Mat Fitchett & Dave Osborne in a three way dance in which the winner earned the remaining spot in the tournament.
-Quarter Final Match:
Jordan McEntyre pinned Tony Kozina
-Quarter Final Match:
Brandon Aarons defeated Mephisto
-PWE United States Champion Ace Hawkins pinned Kyle O'Reilly to retain the title.
-Quarter Final Match
Blake Steel defeated Derek Cornell
-Quarter Final Match
Davey Richards beat ACH
-Semi Final Match
Jordan McEntyre pinned Brandon Aarons
-Semi Final Match
Davey Richards defeated Blake Steel after interference from PWE champion Brandon Espinosa.
-Submission Squad, & Alexander Rudolph defeated Matty Montcalm & Money Makin' Jam Boyz
-Epic 8 Finals:
Jordan McEntyre pinned Davey Richards to win the 2012 EPIC 8 Tournament.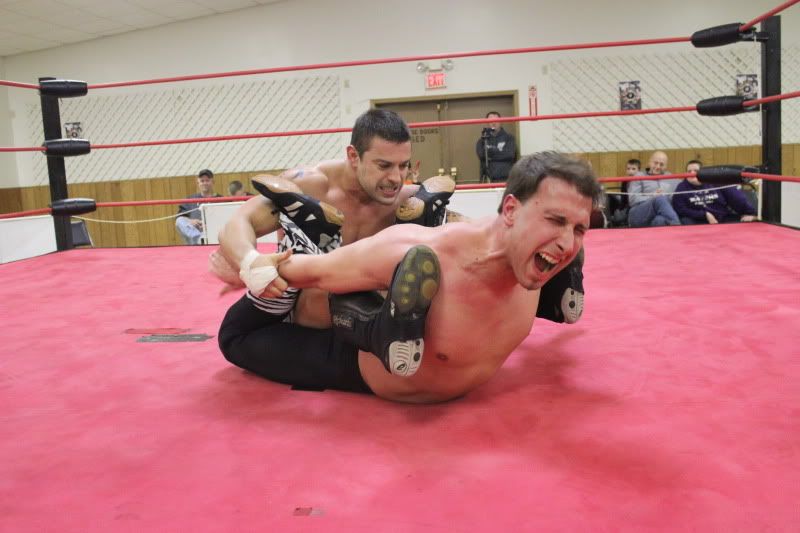 -Jimmy Jacobs defeated PWE Champion Brandon Espinosa to win the title via "End Time" submission.