Jason Jones, Stacey O'Brien and Britt Tucker featured on KSPR channel 33 in the Ozarks.
Posted by flairwhoooooo on June 14, 2012
For the complete look at the KSPR website click here.
Video: Superbash Tour 2012 Wrestling at Remington's, Springfield, Friday 6-15
World League Wrestling Event to benefit Makeawish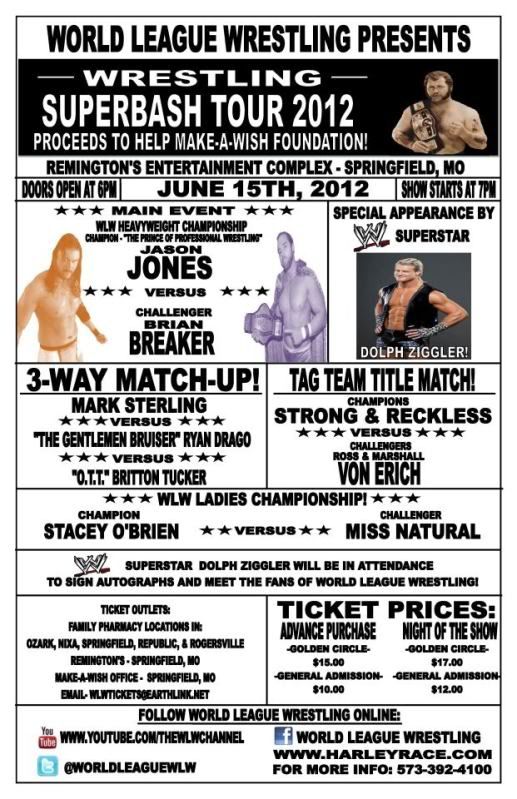 One Response to "Jason Jones, Stacey O'Brien and Britt Tucker featured on KSPR channel 33 in the Ozarks."
June 16, 2012 at 7:09 pm

Great Show In Springfield For A Great Cause — The Dream Fatory

Britton Tucker had the best body and best match of the night in defeating Mark Sterling. Mark looks well past his peak as a wrestler while Britton Tucker continues to improve and be more and more fun to watch wrestle.

The always entertaining Ryan Dragoo was convincing in his match with Elvis Aliaga – This match wasn't as good as the first match but was none the less quite entertaining. Elvis fought his heart out for the win but in the end came up short.

Strong & Reckless defeated Marshall Von Erich & Ross Von Erich when Marshall Von Erich was pinned. The Von Erich brothers looked far better than in their previous matches in WLW. The absence of their father, Kevin Von Erich, may have contributed to their superior showing as he had been distracting and creepy during their previous performances. Strong & Reckless retained the tag team title.

Stacy O'Brien successfully defended her title against Miss Natural in an amazingly good match. The women of WCW are first rate Pro Wrestlers. The men of WLW need to step up their game.

Jason Jones was disqualified in his match against Brian Breaker. Brian now leaves for Tampa and a developmental contract with the WWE. No other match was more one sided in the talent department as Jason Jones retains both the World League Wrestling Heavyweight Champion as well as the absolute least talented wrestler in the promotion. It's baffling how he is the champion.