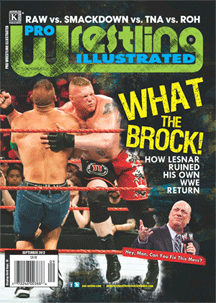 Wrestlers of the Midwest if you want to be a part of the most anticipated list of 2012, the PWI 500, I highly encourage you to take the time to send in your information right away.
Each year Pro Wrestling Illustrated names the number one wrestler in the world for that calendar year then lists the following 499 wrestlers along with a great bio.
Take the time to send in a quality write up and let them know why you deserve to be a part of this exclusive list of the best in the world.
Click here for the link to send in your information today and do not hesitate as the days are coming to a close.
To save money you should also take the time to subscribe to PWI or their sister publication click here.
Good luck.
Brian Kelley – Owner/Editor Missouri Wrestling Revival.