During Intermission at the Collision TV Taping on July 21, 2012, AAPW Promoter Chris Hagstrom unveiled the brand new No Limits Championship belt. It was then reveled that Joey O'Riley must face his tag team partner Jay Spade in a semi-final match.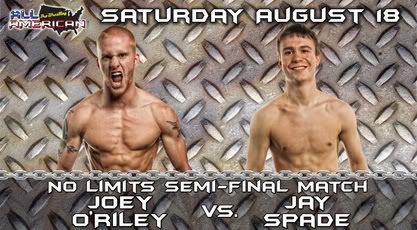 Team Triple X partners Joey O'Riley and Jay Spade haven't exactly been on the same page in recent months, and a series of miscommunications have cost the duo a number of matches.
O'Riley has emerged looking like the aggressor, but it's clear both men have their eyes set on the new No Limits Championship. But only one man can advance to the finals, and at the Aug. 18 "Collision" taping, we'll find out who it will be.
Will it be Spade or O'Riley advancing – and what will the outcome mean for the future of Team Triple X?