Metro Pro Wrestling Sunday November 3rd Contract signing- Metro Pro Wrestling Champion Sterling and Wyatt.
Posted by flairwhoooooo on October 16, 2012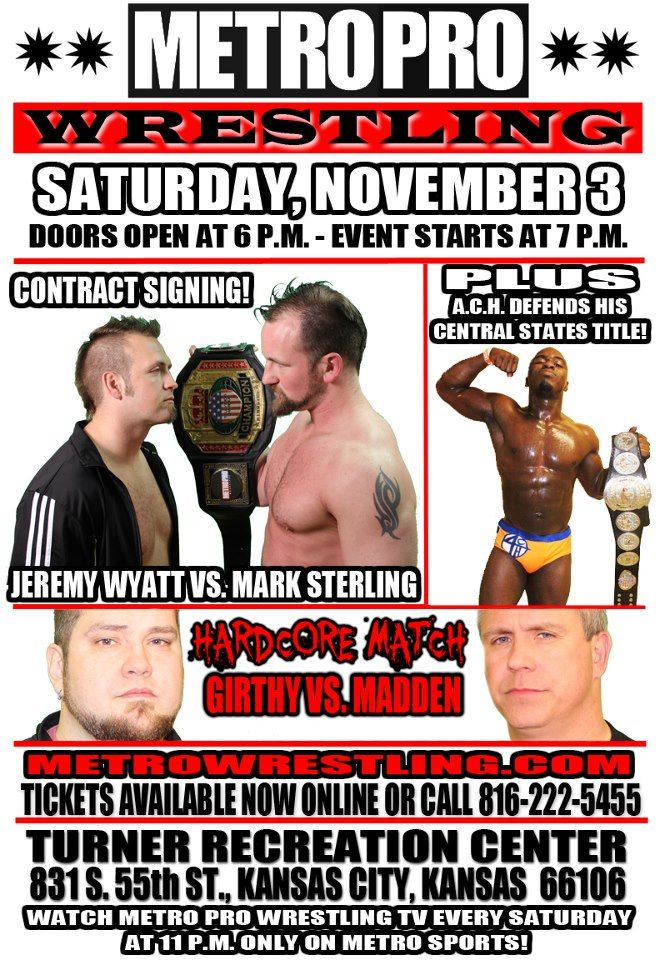 Metro Pro Wrestling returns to Turner Rec Center in Kansas City, KS, on Saturday, November 3, for our next television taping for Metro Sports! Doors open at 6 p.m., and bell time is 7 p.m.
There will be a contract signing, as Jeremy Wyatt has used his win at Tag Teamageddon II to issue a challenge for Mark Sterling's MPW Heavyweight Title!
Also, Steven J. Girthy will face Pete Madden in a Hardcore Match! Who will go on to win the title of MPW Commissioner? We will find out on November 3!
Also, The Commission wants another shot at The Hooligans' MPW Tag Team Titles!
More matches to be announced soon!
Buy your tickets now!
Metro Pro Wrestling on Facebook: http://www.facebook.com/MetroProKC
Metro Pro Wrestling on Twitter: http://www.twitter.com/KCMetroPro
Check out Metro Pro Photos on Facebook: Metro Pro Wrestling Photos
Metro Pro Wrestling airs every Saturday night on Time Warner Cable's Metro Sports at 11 p.m. The show replays several times during the week! Check local listings for details.
Time Warner Cable's Metro Sports is a regional 24-hour sports network, and Metro Sports is the ONLY place you can see Metro Pro Wrestling! Catch us on:
• Time Warner Cable Kansas City Metro Sports SD Channel 30 or 310
• Time Warner Cable Nebraska • Comcast Cable Channel 44 & 258
• Knology of KS Cable – Lawrence 37
• Metro Sports 2 on Time Warner Cable Kansas City Channel 311
• Time Warner Cable Metro Sports HD on Channel 1310
Turner Rec Center is located at 831 S. 55th St, Kansas City, KS.
For more information, call Metro Pro at (816) 222-5455.