MWR remembers 2012 and looks forward to 2013
Posted by flairwhoooooo on January 6, 2013
Hello my friends, I hope that 2013 has started off well for you as we have a whole year of excitement on tap for you in the near future.
We have just announced the 2012 MWR Yearly awards for Wrestler (Adam Pearce) Female (Miss Natural) Tag Teams (The American Bulldogs – Mark McDowell and Jon West) Future Star (ACH) and Lifetime Achievement Award (Herb Simmons)
Now we find out from the rest if we still have any friends from the ones that did not win. All jokes aside, I hope that the awards and more importantly the site has brought some publicity to the promotions and their wrestlers to a broader audience. For the fans, I hope the site has kept you up to date on when shows are happening and entertained you each day with updates from promotions that we cover.
I would like to thank
1) The MWR promoters that have become like a family to us. Without the hard work that you do to put on shows then there would be nothing to talk about. I feel as if each of the promoters that are in our coverage area have their heart in the right place to present quality, respectful entertainment for their fans at each show they promote.
2) The Wrestlers- MWR has spent the last five years supporting wrestling in the Midwest and we are so thankful for those who have done the same for us. I won't even try to name names due to the fact that I would forget someone. Still please know your support of providing photos, wearing MWR wear and just saying kind words to others about us have been much appreciated.
3) The Fans – No matter the promotion, no matter the state that we come to, we have some great fans that become friends. We have had many of you that have been with us for the past five plus years while others we have met just recently. Regardless we are happy that you have joined us in our support of pro wrestling in the Midwest.
In 2012, I was recovering from the loss of my father Steven Paul Kelley and though I feel the loss each and every day thanks to my family, friends and you ,MWR was able to have such a banner year. On a personal level , thanks mainly to my friend Matt Murphy, we were able to produce a phenomenal 2012 MWR Yearbook that was worthy of the men and women who promote and wrestling in the Midwest and a tribute to my dad. (to purchase it from Amazon.com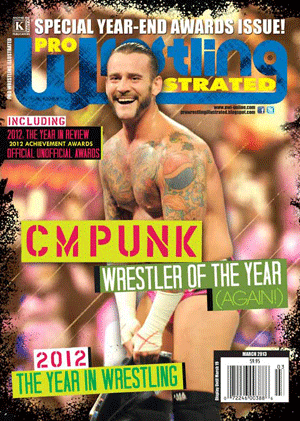 I was thrilled to be interviewed from some of the top wrestling radio shows in the country to advertise the 2012 MWR Yearbook and was able to accomplish a dream of mine to have a photo published in Pro Wrestling Illustrated when my photo of the Great Cheyenne was chosen in the biggest issue of the year, The PWI year in awards issue (now on sale at all quality newsstands near you).
So 2013 is here and we hope that you continue to support MWR and wrestling around the Midwest. A few quick highlights I am wanting to share with you that are in the works for MWR.
1) We will be celebrating out 3,000 post of supporting pro wrestling with WORDPRESS.COM. to be perfectly honest MWR started out with another blog site so truthfully we have done more than that already, but I am excited to share with you a great number in the amount of support for Pro Wrestling in the Midwest with 3,000 with WORDPRESS.COM.
2) The 2012 MWR Yearbook- Yes , it is in the works and we are thrilled to have Matt Murphy return help with the set up for design and layout for the book. I am currently in my second semester in college (Yeah I guess they can still teach and old dog new tricks) and Matt has started a new job after moving his family out of state so I wont be able to give you a deadline on when the book will be publish but I have no doubt that it will be worth the wait. The MWR Yearbook will also feature the return of cover artist Raven Johnson  (Check out his site here ) who has offered to do the front and back of this years book. I look to have the last few stories in Matts e-mail by Monday. The book will be in honor of my mother Diane Alberson Nowacki and to great mothers everywhere. 
3) The countdown to the final cards in the MWR Trading card set will be done before the end of this month. We will finish with a 100 in the first set with 3 more great cards to be announced. The final card will feature one of our best friends, Rob Schamberger's artwork for the card (check out his site here ). Look for MWR Trading card series number two coming soon thereafter. Thank you to all the great talent that has graced our cards and for those who have supported the cards. We have been blessed to have great wrestlers, the best photographers in the business , great writers do bios as well as some of the top artist (Rob Schamberger, ICON ART (check out his site here) , Raven Johnson, Dennis Wyatt and Dart Allen ) in the country do artwork for our cards. The teamwork of all involved has made the first ever MWR Trading card series to be a must have for any true wrestling fans. Heck, it's been awesome to see some of the wrestlers themselves collect the cards.
4) We will also be honoring a second MWR Lifetime Achievement Award in the near future. Time with the family, working, preparing for school and the yearbook has me running behind and other than just throwing out the recipient's name without having a worthy write up for him I have decided on announcing it at another date.

5) We will be presenting the 2012 Award plaques to the winners in the near future. We are happy to be teaming up with Derek Sharp Designs for the graphic art work for the plaques. Please take the time to like his page (by clicking here) and be sure to get ahold of him if by chance you need quality work done for photos, posters and such and tell him MWR sent him. The plaques and MWR T-shirts are from our good friends at Nick's Embroidery(click here to add him)
6) MWR'S very own Dubray Tallman will be working hard to present to you the 3rd annual MWR Sexiest Wrestler award. Each year this contest rotates from male to female to male again. The first year it was the guys turn and you the fans voted in Bailey Mannix, then it was the girls turn and MsChif took home the trophy.
Now we are back with the men. Can Bailey Mannix take home a second MWR Sexiest Wrestler award or will someone else have the bragging rights? Be sure to be with us during the month of love to vote on your favorite.
7) We will be having a contest to see who can come up with the best two color MWR logo/design that may be used for t-shirts, and other MWR memorabilia. So graphic artist and those with such talents this could be a great way to have your work out there.
This and much more will be on the horizon at MWR. We are always looking for fun and respectful ways to bring positive attention to pro wrestling in the Midwest so if you have any ideals that you feel would be a great way to spread the word of the promotions, the wrestlers and MWR to the masses please send an e-mail to flairwhoooooo@yahoo.com and subject "To better MWR".
If you have helped us in the past five years then please know from the bottom of my heart  that we appreciate it Thank you for your time, support and friendship.
Brian Kelley-Owner/Editor of Missouri Wrestling Revival 
Current Promotions that are in the MWR coverage area for 2013.
Metro East Championship Wrestling
One Response to "MWR remembers 2012 and looks forward to 2013"
January 6, 2013 at 12:21 pm

Once again I must say thank you to Brian and Dubray for not only the job they do but for the friendship we have built.  From time to time i find myself needing a photo for a promotion article and i reach out to my friend Brian.  He always goes out of his way to help.  And as the old saying goes, "behind every good man is a better woman" that is true with his better half, Dubray.  she always lights up the room when she  walks in.  the work they do for all the promotions is what helps all of us in promoting our shows.  without mrw the word weren't get out.  i ask each of the promoters to start 2013 in budgeting just a little for all the work Brian does.  with the gas price as high as it, a little could make it easy on his pocket.  and no Brian has no idea that i have suggested this to the readers or other promoters, in fact as i have got to know him he may be upset with me for suggesting this.  His work is important to me and if you can show your support and do what you can to help we can all benefit from the mrw.   hope everyone has a great 2013.  

T-Mobile, America's First Nationwide 4G Network