Metro Pro Wrestling's Last Show from a Fans' Point of View-
Posted by flairwhoooooo on October 5, 2013
By Dee Clark and several of the MPW faithful fans.
Photos Dee Clark
Metro Pro Wrestling's August event was Saturday August 10th. As people gathered in the parking lot waiting for the doors to open, you could sense the excitement. Something just "felt" different. Everyone was psyched to see the match between Jeremy Wyatt and Adam Pearce – a dog collar match. A lot of fans had never seen a dog collar match in person before and were trying to figure out how it would work, who would win, etc. As we got inside Turner Recreation Center, the place was alive with anticipation. Friends were visiting and everyone was in great spirits. Several wrestlers had t-shirts and items for sale and their tables were busy as well. Rob Schamberger was in his corner with new prints and art to share after not being at the last event.
Ring Announcer, Don Diablo opened with his usual booming voice "Who's ready for some wrestling". The now full gym was roaring and cheering. Don then said promoter Chris Gough wanted to speak. Chris got into the ring amongst cheers and clapping. He looked uncomfortable and said "this isn't good". He then explained this was Metro Pro Wrestling's last show – at least for now. The fans were stunned. Each month the event just got better and the matches stronger and better by all the wrestlers. Chris went on to explain it wasn't financial. Time Warner had made the decision to go a different path with their sports and Metro Pro Wrestling wasn't a part of it. From where I was sitting, I could see tears in many fans eyes. The gym was silent except for Chris speaking. He said he had told the wrestlers prior to the show so they were as stunned as we were. As Chris got out of the ring, the crowd was still trying to absorb what they had just heard. And then something changed. The first match started and the crowd grew appreciative of every body slam, slap and throw that came. The wrestlers were giving their all for the probably last Metro Pro Event and the fans were showing their support. The gym was once again filled with electricity but this time different. The last show. This could possibly be the last time friends might see each other or the last time some of us would see these Wrestlers.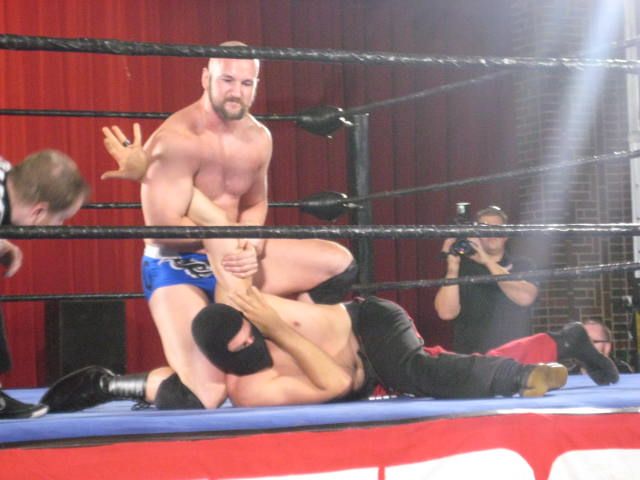 After an amazing first half, it was time for intermission. Fans were everywhere talking with each other. Many were almost frantic trying to buy a t-shirt or speak to some of the wrestlers. Several of the wrestlers broke character and were out visiting with the fans who appreciated the opportunity.
All too quickly it seemed, it was time for the second half of the taping. The crowd was even louder than before. Each set of wrestlers came out and gave their all. None disappointed. There were new wrestlers to the crowd and seasoned pros. Each one received a rounding roar of applause and appreciation. At one point, the Title match belt was thrown out of the ring. One of wrestlings biggest fan, Tim Chmidling grabbed the belt and raised it over his head. The crowd went crazy. Tim then ran – holding the belt high and handed it to artist Rob Schamberger who held it over his head grinning ear to ear. The crowd was on their feet cheering this totally unexpected happening – it brought everyone together.
The final event was the best way possible for Metro Pro to say goodbye. The dog collar match was brutal, bloody and full of surprises. Jeremy Wyatt was able to reclaim the Title Belt in one of his best matches ever.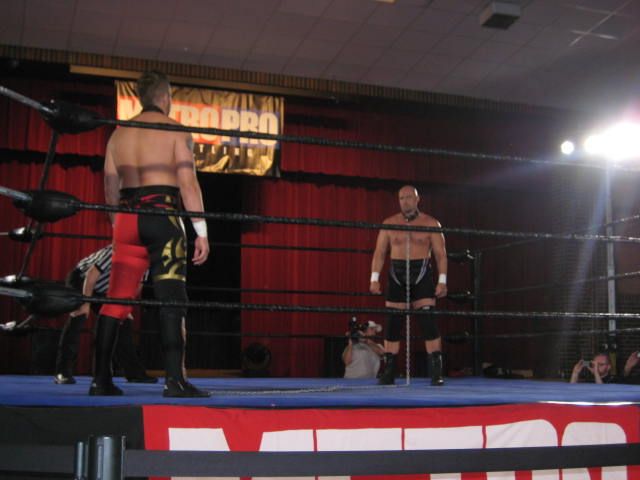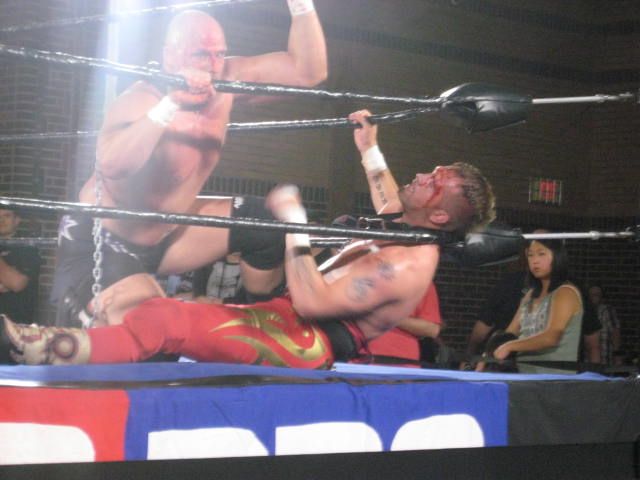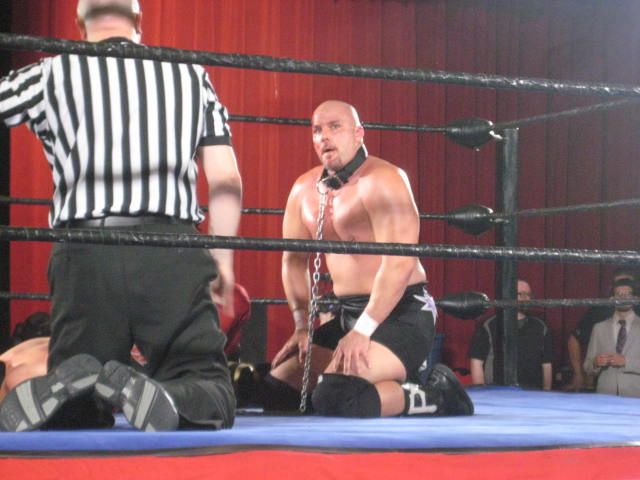 After the final match, the crowd didn't leave as they normally do. They did not want it to end. They were not disappointed. All the wrestlers, referees and support staff came out together. The crowd gave them a resounding standing ovation. There were several people with tears in their eyes-both in the ring and out. Promoter Chris Gough was lifted by several as the leader and champion he's been for Metro Pro Wrestling.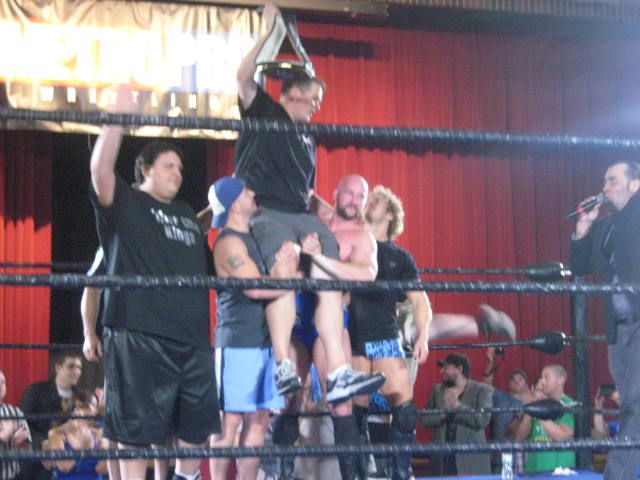 It was a bittersweet ending to an awesome evening. I refuse to believe it's over. Somehow, someway, Metro Pro Wrestling needs to come back. Let's home its' sooner and not later!!
Metro Pro Wrestling – Kansas City, Kansas- 8/10/2013
ACH def. Iceman…Ryan King def. Brandon Gallagher…..Domino Rivera def. Ricky Love….Show time Bradley Charles and Tyler Cook ended in a Double DQ ….Kobra Kai & Sensei "Dingo" def. Commission, 3-vs-3 for tag belts…Jake Dirden defeats Steve Fender….ACH defeats Dan Walsh…Mark Sterling def. Takeon (unmasked to be Kraig Keesman) via submission…..Jeremy Wyatt def. Adam Pearce for the Metro Pro Wrestling title in a dog collar match.
One Response to "Metro Pro Wrestling's Last Show from a Fans' Point of View-"
October 6, 2013 at 10:28 pm

Great article, Dee. Tim will be so happy to see his name in print. Especially since it was in bold. Thank you, and all the Metro Pro Wrestling family for making Time feel appreciated and loved!!