Posts Tagged '3XW'
Posted by flairwhoooooo on June 15, 2013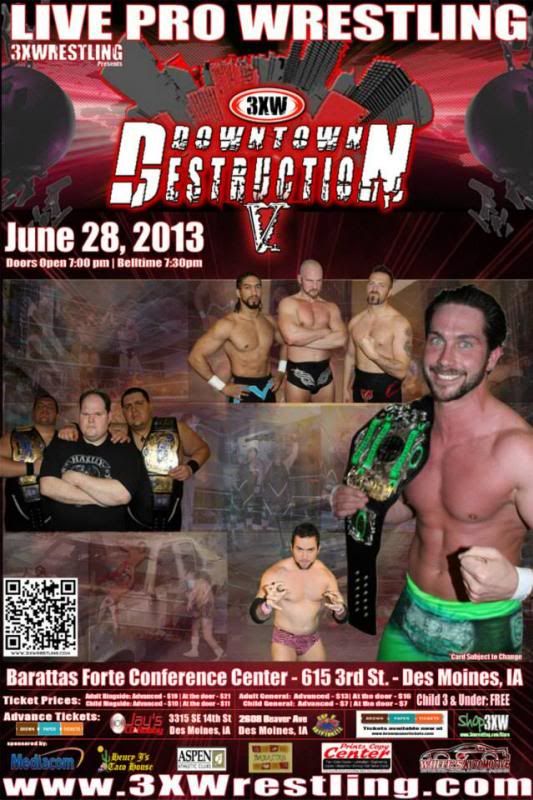 "The Right Price" Aaron Masterson and "The Voice of Midwest Wrestling" Midnight Guthrie have been training hard in anticipation of their huge tag team grudge match with the MMA's Chad Mylan and Emperor Kwong on June 28 for 3XWrestling. Here, Masterson teaches Guthrie how to bodyslam an opponent.
The match, taking place at 3XW's Downtown Destruction V event on June 28 in Des Moines, will be the first time Guthrie competes in a tag team bout.
This rivalry dates back to early 2013, where Guthrie helped Masterson train for his return to 3XW after a two year hiatus, only to have his nose broken via curbstomp by Kwong on March 1. In recent months, though Masterson remains undefeated in in-ring competition with Kwong, Guthrie has also been whipped with Mylan's belt, Masterson has dealt with sneak attacks from the MMA, and both have fought with the MMA in a battle royal.
Tickets and more information about the event on June 28 can be found at http://www.3XWrestling.com
Posted in Uncategorized | Tagged: 3XW, Midnight Guthrie | Leave a Comment »