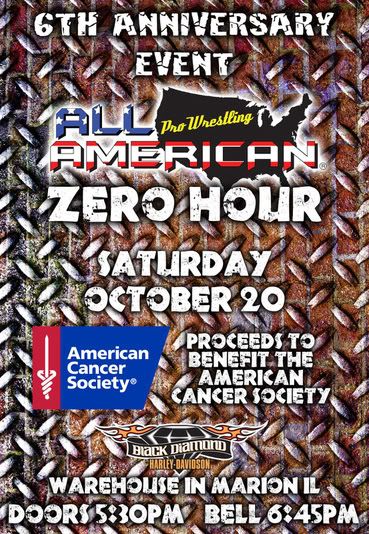 On Oct. 20, All American Pro Wrestling celebrates its sixth anniversary with "Zero Hour," the promotion's second season finale. Traditionally, the anniversary show has always also served as a benefit for the American Cancer Society.
After a few lackluster years of barely raising their goal they want to pull out all the stops and raise as much money as possible to turn over to the ACS after it's over. To reach that goal, they are organizing a silent auction/raffle/combination of the two. AAPW are seeking donations from people within the wrestling world and outside of it to be used as prizes/auction items. 100 percent of proceeds will go straight to the ACS.
 American Pro Wrestling's 6th annual benefit show for the American Cancer Society. 
Donations can be mailed for the ACS benefit in October. The address is:
Adam Testa
1433A E Gary Drive
Carbondale, IL 62902
Saturday, October 20, 2012
6:45pm
**Proceeds to Benefit the American Cancer Society**
Bell Time at 6:45pm
Black Diamond Harley-Davidson Warehouse
2400 Williamson County Parkway
Marion, IL
Doors open at 5:30pm.
First Row Ringside: $12 (all ages)
Adults: $10
Kids 12 & Under: $8
Veterans: Free
Special Guest:
Colt "Boom Boom" Cabana
Scheduled to Appear:
AAPW Heavyweight Champion Mike Masters
AAPW Tag Team Champions Team Overkill (Matt Cage & Christian Rose)
Ace Hawkins
"Old School Warrior" Ax Allwardt
Brandon Espinosa
Bull Bronson
Edmund "Livewire" McGuire
Farmer Billy Hills
Heath Hatton
Jay Spade
Joey O'Riley
Justice
"The Main Attraction" KC Jackson
Kyle Sykes
Mike Masters
Mississippi Madman
The Convoy
Truk Thompson
Since 2006, All American Pro Wrestling has been bringing you the best wrestling action in the region. Today, AAPW continues to grow and is one of the best in the Midwest! Help us celebrate our 6th Anniversary and donate to a great cause. Proceeds from the event will go to the American Cancer Society. Keep watching the All American Pro Wrestling Facebook page for more announcements on matches.
**Card subject to change**